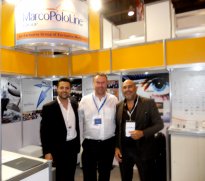 Nova Systems keeps investing in the internationalization and opens to the Latin-American market by participating to Expo Carga 2013, the reference exposition for the Companies and operators of transportation and wares branch. The event took place at the WTC in Mexico City from June 11th to 13rd.

Expo Carga is an event organized by Fidalex Group, a French-Mexican Company with almost 10 years of experience in the branch.
The fair was attended by Robert Dreelan from Multilogistics, a Nova Systems client, Carlos Messner, Solution Partner for Nova Systems Latin-America, and Silvano Forapan, International Sales Manager for Novasystems (picture on the left).
Date: 12-06-2013